Posted on October 27, 2016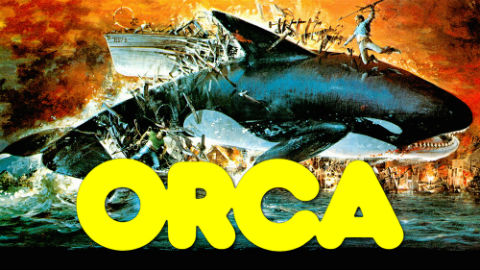 So I hadn't seen Orca (1977) since it was on HBO sometime in the early to mid 80s. Even then I didn't recall much of the plot (besides the obvious.) The only scene I really remembered is when the main character is trapped on the floating iceberg at the end, and the whale tilts it, sending the man sliding down it to his inevitable death.
I decided to revisit the film given that it was produced by Italian film producer Dino De Laurentiis (who also produced Death Wish) and directed by Michael Anderson, who had just previously directed one of my favorite films, Logan's Run. Anderson would also later direct the eerily watchable TV miniseries adaptation of The Martian Chronicles in 1980, which I also enjoyed. Given this, I went into watching Orca probably with higher expectations than most people would when they sit down to view a 70's horror movie about a killer whale that attacks people.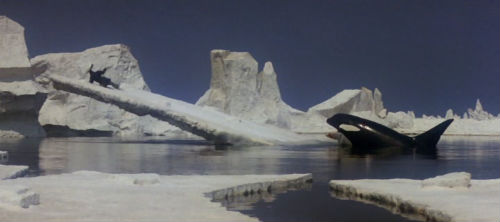 I'll spare you the suspense, and just tell you up front that this movie is not good. I was prepared going into re-seeing this film to possibly write about how it was much better than I remembered it, maybe even better than Jaws and an underappreciated classic…but it just isn't any of those things.  It is interesting though, which is partially what makes it so difficult to watch, because one can't help but be dismayed by all the wasted potential (including a cast which boasts of such highly respected names as Richard Harris and Charlotte Rampling.) Charlotte you might recall was in the news recently when she was attacked by SJWs for stating the obvious about the lack of "diversity" at the 2016 Oscars .
The opening sequences and first 10-15 minutes or so are just beautiful, featuring an award winning musical score and leaving you with the impression you're diving into a real artistic masterpiece. Unfortunately, it's pretty much downhill (way downhill) from there until the last 5 minutes of the movie when it gets good again. In fact, if you cut about an hour and a half out of Orca , and just made a film out of the first 15 minutes and the last 5, you'd have a damned good movie.
The plot is actually very similar to Death Wish, only this time it's the killer whale who is the vigilante seeking revenge for the death of his wife and child, whom were killed by a careless and emotionally troubled fisherman. The fisherman having lost his own wife and child in a car accident with a drunk driver, feels guilt as well as empathy for the whale. He wishes he could communicate how sorry he is, but the killer whale apparently isn't interested in apologies and terrorizes him, his crew and the entire town out of vengeance. Orca is based on the novel of the same name (which I haven't read,) by Arthur Herzog.
Since killer whales are highly intelligent, conceptually the plot isn't all that implausible on the surface. It's not a stretch to believe that the creature could harbor complex emotions and be able to carry out elaborate revenge scenarios. At least it's more believable than a great white shark doing these things, like in the awful Jaws the Revenge (which was probably a ripoff of Orca come to think of it.) Cinematically, Orca actually reminds me a lot of Tentacles, an Italian horror film which also came out in 1977 featuring another great musical score and preposterous plot (this time with a giant Octopus terrorizing a beach community and a couple of friendly killer whales teaming up with man as the heroes who save the day.)
The problem with Orca though is that pushes the whale's vengeance plot way past any point of believability, to the point of absurdity. If they had just kept it reasonable to where it was simply the story of an intelligent whale that was upset over the loss of its family and neurotically began attacking local people and seeking retribution on the fishing boat crew he recognized as being the culprits, it could have worked and been profound. However, what actually happens is the whale terrorizes the fisherman and the town with such precision and specificity that it just makes the whole premise (which was already implausible) utterly ridiculous. For example, the whale angrily sinks every boat in the harbor, except the fisherman responsible, supposedly to torment him and to indicate he wants to have a showdown with the man out at sea. The local townspeople and everyone seems to just know that's what the whale wants. They presume to know what the whale is thinking. The whale even somehow knows what house the fisherman and his crew live in and he comes by and knocks it into the water. The film even contains the stereotypical wise and spiritually connected Indian/native man, there to instruct the fisherman what he must do. I suppose in 1977, the prophetic and mysterious Indian character may not have been a tired cliché yet. At a certain point in the film I gave up and no longer felt any sympathy for or connection to the characters. The movie becomes so outlandish and unreal that I just kind of detached from the story…almost.
"If he [the orca] is like a human, what he wants isn't necessarily what he should have." -Rachel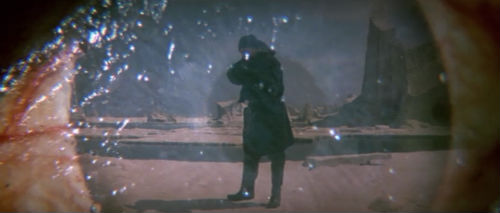 The ending though, is interesting. When Captain Nolan's (the fisherman) wife and child were killed by the drunk driver, he just got really depressed. He didn't really take any action. Because the whale is actively seeking revenge and on a grand scale, the Captain concludes that the whale loved his family more than the fisherman loved his own. Much like many humans, the whale ends up seeking a punishing revenge that's excessive for what the crime against him warranted, while the captain wrongly assumed he and the whale might come to some kind of understanding and make peace. He hesitates when he has a clear chance to shoot the whale near the end. The compassionate gesture doesn't appear to phase the whale, which proceeds to kill him mercilessly anyway.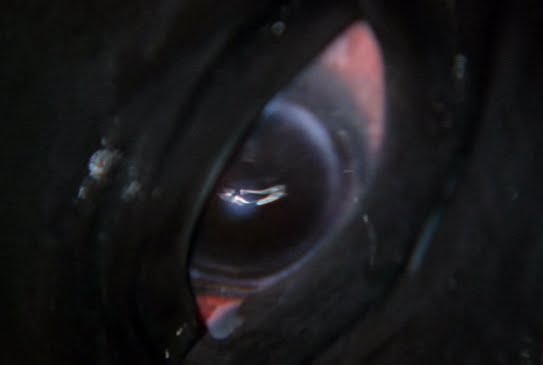 The film ends with the orca swimming beneath the thick arctic ice, unable to surface. Having swam out too far in committing his last act of revenge against the fisherman, the whale himself seems unlikely to survive the ordeal. Some have interpreted this as the whale possibly committing suicide. Perhaps though it's illustrative of how when righteous vengeance is taken too far, it can wind up consuming and destroying oneself. The whale stubbornly insisted on getting more revenge than he was owed and paid the price.
Captain Nolan: Can you commit a sin against an animal?
Priest: Why, you can commit a sin against a blade of grass. Sins are really against oneself.
The plot device is ironically relatable to the film itself, which overextends its whale revenge premise such that it strains the capacity of viewers to take any part of Orca seriously as a movie. If it accomplishes one thing though, it's that it makes us think about how we treat these creatures, not because they might hate us and become bloodthirsty murderous maniacs if we're mean to them (they probably won't…even when we deserve it,) but because they're worthy of more respect and compassion than we tend to give them.
Posted on November 1, 2015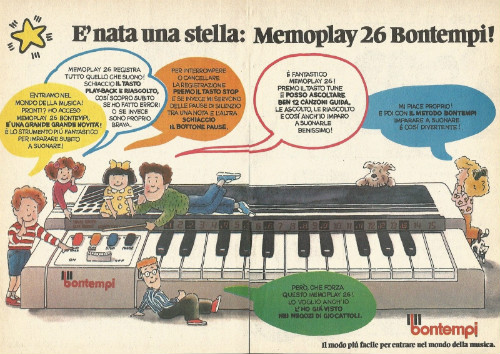 I picked up a couple of vintage Italian Bontempi organs/synths recently, mainly because I liked the design and aesthetic of them (as a brand, Bontempi was not known for having a great sound.) Their advertising was beautiful though and captures a sort of innocence which resonates with the childhood I experienced. I obtained the Bontempi Memoplay (pictured above) which is a pretty limited but unique, "programmable" synth from the late 70s / early 80s. It only has one sound, but it's a decent one in my opinion.
The other Bontempi organ I got my hands on is the Mod 109. This was basically a really hip and modern looking organ,(mine is orange in color) but in reality it's just a standard reed organ which produces a sound similar to an accordion.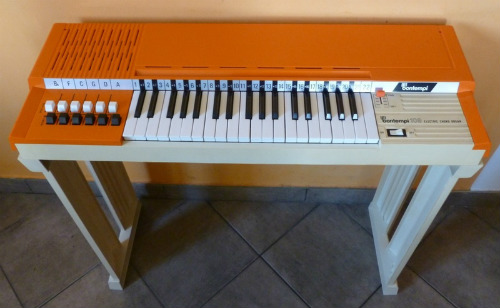 For an example of one the better organs Bontempi produced,(which I was not fortunate enough to be able to find) check out the awesome 1979 Bontempi commercial below. It exemplifies a childhood ambiance and European cultural era that my mind/alter ego fights to recapture every day.

Brandon Adamson is the author of "Beatnik Fascism"
Posted on February 7, 2015
 "There's a letter. Shall we burn it?" – Magus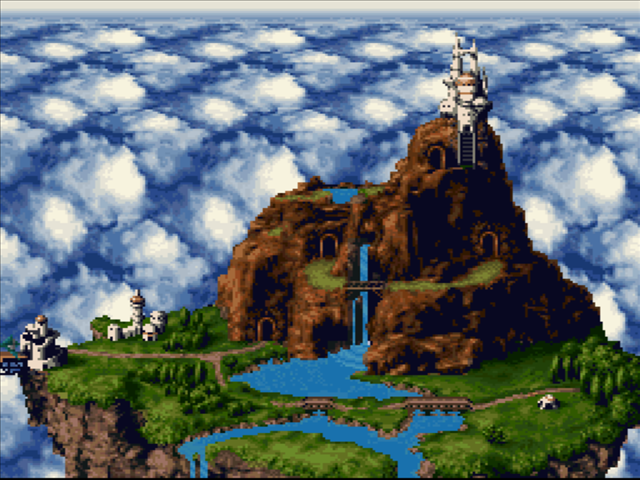 From the spring of 2001 until roughly the winter of 2002, I retreated heavily into the nostalgic fantasy world of Super Nintendo RPGs. Unsatisfied with the society as it existed around me I began to shun what I perceived as a dying civilization and embrace the superiority of imagined simulations. I did this not as some neck beard D&D geek or anime/Japanese fetishist, but as an able bodied young man, exhausted and from the negative cultural stimuli induced sensory overload of Los Angeles and the southwest living experience. Call it my own private neoreaction if you will.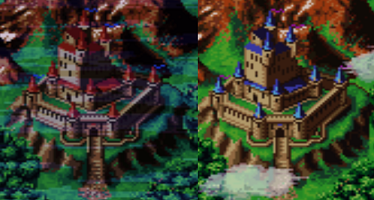 I know what you're thinking. "Dude, video games aren't real life." True enough, or is it? Are thoughts not real? Are daydreams invalid because you can't hold them in your hand? One of the common criticisms of modern society is that people are so fixated on electronic gadgetry and computer simulated realities that they miss out on "real life," you know..going outside and shit. But what if there's nothing out there anymore? What is one to do when they reach a point when their civilization has degenerated to the tipping point, where the constantly advancing imagined simulations actually seems more fulfilling? Soon the day may come when a perfected robot woman will turn you on sexually more than some chubby hobag you meet in a bar. Anyway, that's not really the point. Rather, things that seem like a waste of time may not be a complete waste of time. Cultural awakenings can start in the strangest of places. Just as philosophical literature influenced people for thousands of years, who is to say that newer forms of media can't inspire people in real ways? They certainly did in my case. Laugh as you might at the notion of these 90's video games serving as the inspiration for some real life medieval-futurist state, I can pretty much guarantee you that the Japanese guys who programmed these games and conjured up the fictitious worlds they contain, were more intelligent than almost anyone who's been elected to public office in a Western democracy in the past 30 years.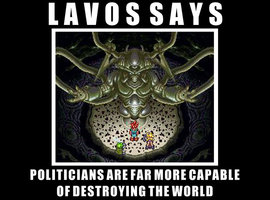 I began calling myself a monarchist and yearning for a techno-futuristic monarchy in 2002, not as result of watching VHS tapes of 60 Minutes interviews with the Shah of Iran, romantic notions of the Legend of King Arthur, or perusing the musings of Pliny the Elder. Rather, it was the beauty and ambiance of the elaborately constructed worlds of games like Zelda – Link To The Past, Illusion of Gaia, Secret of Evermore, Earthbound, Secret of Mana, as well as Final Fantasy IV, V, and VI. The ultimate of course, was Chrono Trigger.
The game featured both Middle Ages style monarchy (in the form of King Guardia and his daughter, Princess Marle) as well as the techno-futurist variety (Queen Zeal and Princess Schala) It was unique in that it was a time travel RPG, allowing you to experience the same world in several different eras, ranging from prehistoric times to a post apocalyptic dystopian future, and going back and forth to do things which would affect future events.
It's through this tampered, blurry intertwining of time periods and the elements of a homogenized society bound together by its traditions/customs, combined with modern technological advancements, that an ideal world begins to emerge. There are still kings and queens, fortresses and town fairs, but also fast talking robots and sophisticated airships. We want futuristic monarchy after all, and renaissance festival jousting and miniature golf style castles aren't going to cut it.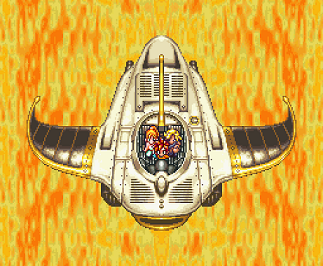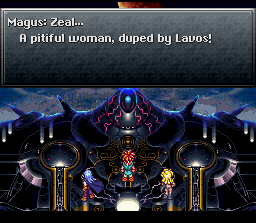 Typical of monarchies, the justice system may be lacking a bit, as early on Crono winds up sentenced to death on a rather dubious charge of kidnapping the princess. But hey, it's a small price to pay to live in a society with no knockout game, gang rape, or anarcho-tyranny in the mix. Women can walk freely in Medina village wearing mildly revealing outfits without fear of being catcalled by crude and imposing third world caricatures.
On a somewhat deeper level, Chrono Trigger even curiously incorporates an "enlightenment" subplot into it's storyline:
The Enlightened Ones are the people of Zeal, magically empowered, impossibly cultured, and ardently devoted to the highest arts and exploration of human potential. The Enlightened Ones formally became a people after the Sun Stone was located and Zeal was created; the group able to use the power of the artifact took to the sky, and developed a begrudging prejudice against the Earthbound. The Enlightened soon created a culture of their own; they gilded their cities with the colors of silver, white, and gold, and filled them to the brim with knowledge and rumination. Knowledge and erudition reached a peak that would never again be matched, as the people of Zeal tackled philosophical questions such as the presence of fate and delved into the fundamental composition of the universe.

Their chosen King and Queen governed the Enlightened Ones; the monarchs were magic innates, as were the Gurus of Time, Reason, and Life, who commanded much wisdom in their studies. The byproduct of Enlightened civilization was hubris and blind ambition; they considered the Earthbound subhuman, and had visions of immortality. The pursuit of immortality led the Enlightened Ones to tap into Lavos's power using the Mammon Machine, which would cause the destruction of Zeal by awaking the monster beneath the planet's crust. Though Zeal was totally annihilated, several Enlightened Ones survived the Fall of Zeal and stumbled upon Last Village, the last remaining human settlement. Stripped of power sources to leech magic from and their dwellings in the sky, the Enlightened Ones could no longer maintain prejudice against the Earthbound and mingled with the former cave dwellers. This marked the end the Enlightened Ones and the Earthbound as formal divisions of people.
Source: Chrono Compendium
No need for me to visit every detail of the plot of the game though. Much of it can be found here (warning: spoliers.)
In our lives, time travel is not yet possible (and travel to the past may never be) so the most we can achieve it to create or recreate the time and place we would prefer to live in. Plodding along through the tattered shreds of fading Western empires and an increasingly dumbed down, consumerist American ghettocracy, I think to myself, "This place ain't it."
If you're open to exploring alternatives to warm body democracy, I implore you to have a brief glimpse at the world as it is in Chrono Trigger and see if you don't conclude that it's more appealing than our own (aside from having to battle monsters.) If we do find it superior, then why not strive to create something similar? Thoughts are real things, else they would not exist… even in our minds. Yet we needn't be content to think certain kinds of thoughts and ideas must exist only in our minds.
You may say I'm a radical dreamer, but I'm not the only one.