Posted on February 7, 2015
Chrono Trigger, An Unconventional Model For Monarchy
 "There's a letter. Shall we burn it?" – Magus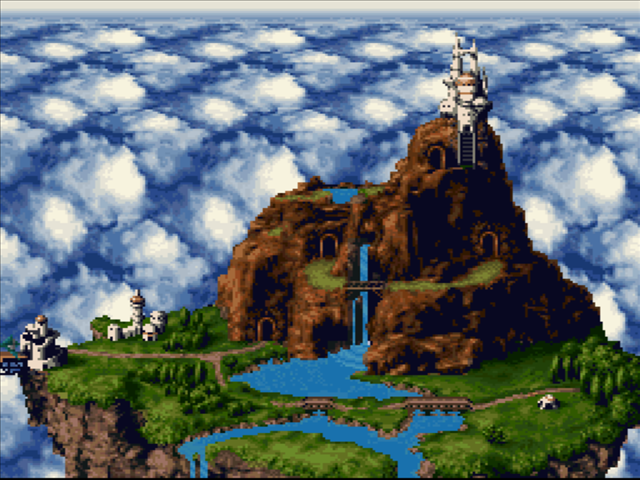 From the spring of 2001 until roughly the winter of 2002, I retreated heavily into the nostalgic fantasy world of Super Nintendo RPGs. Unsatisfied with the society as it existed around me I began to shun what I perceived as a dying civilization and embrace the superiority of imagined simulations. I did this not as some neck beard D&D geek or anime/Japanese fetishist, but as an able bodied young man, exhausted and from the negative cultural stimuli induced sensory overload of Los Angeles and the southwest living experience. Call it my own private neoreaction if you will.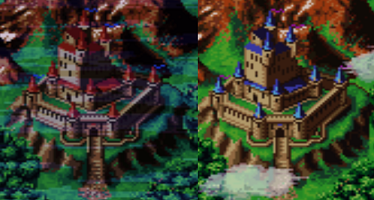 I know what you're thinking. "Dude, video games aren't real life." True enough, or is it? Are thoughts not real? Are daydreams invalid because you can't hold them in your hand? One of the common criticisms of modern society is that people are so fixated on electronic gadgetry and computer simulated realities that they miss out on "real life," you know..going outside and shit. But what if there's nothing out there anymore? What is one to do when they reach a point when their civilization has degenerated to the tipping point, where the constantly advancing imagined simulations actually seems more fulfilling? Soon the day may come when a perfected robot woman will turn you on sexually more than some chubby hobag you meet in a bar. Anyway, that's not really the point. Rather, things that seem like a waste of time may not be a complete waste of time. Cultural awakenings can start in the strangest of places. Just as philosophical literature influenced people for thousands of years, who is to say that newer forms of media can't inspire people in real ways? They certainly did in my case. Laugh as you might at the notion of these 90's video games serving as the inspiration for some real life medieval-futurist state, I can pretty much guarantee you that the Japanese guys who programmed these games and conjured up the fictitious worlds they contain, were more intelligent than almost anyone who's been elected to public office in a Western democracy in the past 30 years.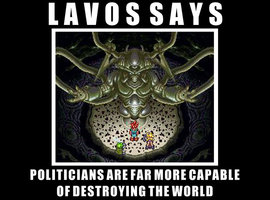 I began calling myself a monarchist and yearning for a techno-futuristic monarchy in 2002, not as result of watching VHS tapes of 60 Minutes interviews with the Shah of Iran, romantic notions of the Legend of King Arthur, or perusing the musings of Pliny the Elder. Rather, it was the beauty and ambiance of the elaborately constructed worlds of games like Zelda – Link To The Past, Illusion of Gaia, Secret of Evermore, Earthbound, Secret of Mana, as well as Final Fantasy IV, V, and VI. The ultimate of course, was Chrono Trigger.
The game featured both Middle Ages style monarchy (in the form of King Guardia and his daughter, Princess Marle) as well as the techno-futurist variety (Queen Zeal and Princess Schala) It was unique in that it was a time travel RPG, allowing you to experience the same world in several different eras, ranging from prehistoric times to a post apocalyptic dystopian future, and going back and forth to do things which would affect future events.
It's through this tampered, blurry intertwining of time periods and the elements of a homogenized society bound together by its traditions/customs, combined with modern technological advancements, that an ideal world begins to emerge. There are still kings and queens, fortresses and town fairs, but also fast talking robots and sophisticated airships. We want futuristic monarchy after all, and renaissance festival jousting and miniature golf style castles aren't going to cut it.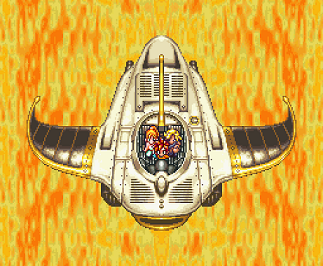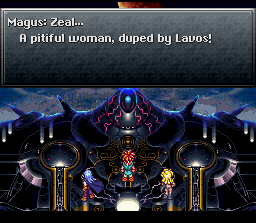 Typical of monarchies, the justice system may be lacking a bit, as early on Crono winds up sentenced to death on a rather dubious charge of kidnapping the princess. But hey, it's a small price to pay to live in a society with no knockout game, gang rape, or anarcho-tyranny in the mix. Women can walk freely in Medina village wearing mildly revealing outfits without fear of being catcalled by crude and imposing third world caricatures.
On a somewhat deeper level, Chrono Trigger even curiously incorporates an "enlightenment" subplot into it's storyline:
The Enlightened Ones are the people of Zeal, magically empowered, impossibly cultured, and ardently devoted to the highest arts and exploration of human potential. The Enlightened Ones formally became a people after the Sun Stone was located and Zeal was created; the group able to use the power of the artifact took to the sky, and developed a begrudging prejudice against the Earthbound. The Enlightened soon created a culture of their own; they gilded their cities with the colors of silver, white, and gold, and filled them to the brim with knowledge and rumination. Knowledge and erudition reached a peak that would never again be matched, as the people of Zeal tackled philosophical questions such as the presence of fate and delved into the fundamental composition of the universe.

Their chosen King and Queen governed the Enlightened Ones; the monarchs were magic innates, as were the Gurus of Time, Reason, and Life, who commanded much wisdom in their studies. The byproduct of Enlightened civilization was hubris and blind ambition; they considered the Earthbound subhuman, and had visions of immortality. The pursuit of immortality led the Enlightened Ones to tap into Lavos's power using the Mammon Machine, which would cause the destruction of Zeal by awaking the monster beneath the planet's crust. Though Zeal was totally annihilated, several Enlightened Ones survived the Fall of Zeal and stumbled upon Last Village, the last remaining human settlement. Stripped of power sources to leech magic from and their dwellings in the sky, the Enlightened Ones could no longer maintain prejudice against the Earthbound and mingled with the former cave dwellers. This marked the end the Enlightened Ones and the Earthbound as formal divisions of people.
Source: Chrono Compendium
No need for me to visit every detail of the plot of the game though. Much of it can be found here (warning: spoliers.)
In our lives, time travel is not yet possible (and travel to the past may never be) so the most we can achieve it to create or recreate the time and place we would prefer to live in. Plodding along through the tattered shreds of fading Western empires and an increasingly dumbed down, consumerist American ghettocracy, I think to myself, "This place ain't it."
If you're open to exploring alternatives to warm body democracy, I implore you to have a brief glimpse at the world as it is in Chrono Trigger and see if you don't conclude that it's more appealing than our own (aside from having to battle monsters.) If we do find it superior, then why not strive to create something similar? Thoughts are real things, else they would not exist… even in our minds. Yet we needn't be content to think certain kinds of thoughts and ideas must exist only in our minds.
You may say I'm a radical dreamer, but I'm not the only one.