Birthday Boy 22nd Anniversary Edition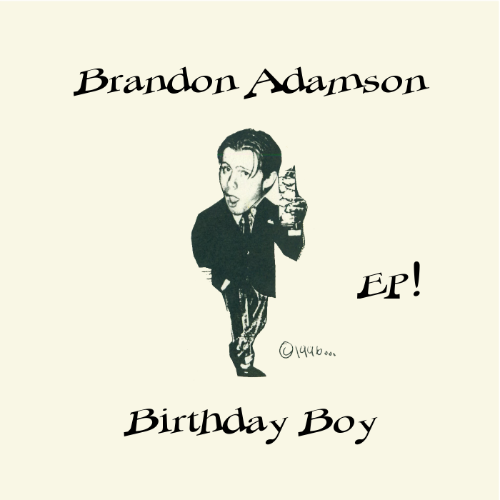 Since today is my birthday, you can take this opportunity to purchase a limited edition cassette of a crappy lo-fi EP I released in 1996, (which has been re-released by a label in Eugene, Oregon without my knowledge or permission.) I guess I've finally reached the age as an artist where young people take up an interest my shitty and obscure early recordings, so I'm honored and grateful for that. I may not be worthy of such recognition, but no one can ever say I didn't pay my dues.
Birthday Boy was originally released in October of 1996. It was recorded on a Fostex XR-3 when I lived in my first apartment, at Desert Star Apartments in Phoenix, AZ. The complex was a mildly seedy dump back then, but now resembles a dangerous, post apocalyptic wasteland. The apartment only came with basic cable, of which the only cable channels included were The Family Channel, C-Span and the E! Channel. That's it, nothing else. Living on my own and knowing very few people in the city, I spent most of my spare time watching the E! Channel, which at the time featured reruns of Melrose Place, WKRP in Cincinnati, One Day at a Time, and Alice. Regular tv also aired reruns of Charlie's Angels and The Rockford Files during this period. I mention this because the era has become an enduring inspiration for me and a formative part of my identity.
Since I was living a fairly isolated lifestyle and wasn't socially active, I frequently wrote songs about the lives of characters on the shows I was watching. For example, the second track on Birthday Boy is titled Right Back Where I Started, but the lyrics actually chronicle the romantic and often diabolic misadventures of the character Michael on Melrose Place. There are dozens of similar recordings which once existed, such as my spoken word cover of the theme song of WKRP in Cincinnati (which was re-worded and adapted to be about Arizona.) Sadly, I have moved nearly 30 times since then, and these other recordings have all been lost over the years…having been last seen around the year 2004 or so.)
The show Alice was also a show which I found oddly relatable as an 18 year old young man. The plot of Alice was centered around a woman who was driving to Los Angeles to start a new life and pursue a singing career, but her car broke down in Phoenix. She ends up staying in suburban Phoenix after she's forced to take a job at a diner there to make ends meet, and the place starts to grow on her.
Anyway, that is the story of Birthday Boy. The cassette re-release can be purchased HERE. Special thanks to Captain Crook Records for rediscovering this uncharted "fool's gold" record. The limited edition cassette re-release is almost sold out, but Birthday Boy (along with many other recordings) can still be purchased through iTunes as well.
Click here to purchase on iTunes
An obscure 90's oddity, Birthday Boy's aesthetic resembles something of a "Lo-Fi Leisure Suit Larry." The song, Right Back Where I Started chronicles the love life of the character Michael from the show, Melrose Place. Originally released on cassette in 1996, this is one the most unusual recordings from a highly experimental era of indie alternative music.