Off the Top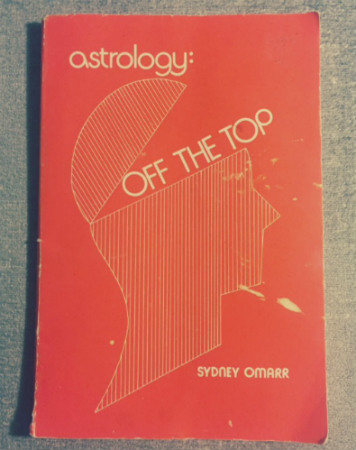 "Read old books" they say. Well, I went ahead, dug into my closet looking for some light reading and found an astrology paperback I picked up about 7 years ago from Half Price Books. It's from 1975 and titled Off the Top. The author was a famed astrologer named Sydney Omarr (note that despite the Arabic sounding name, he was actually born Sidney Kimmelman and was Jewish.) Anyway, as you might imagine, I'm not a huge believer in astrology but have always been intrigued by it and favored the aesthetic over other religions. I do in fact believe that forces in the cosmos probably do affect us to some degree but in ways we have not yet been able to pinpoint with specificity and perhaps never will. I went through a phase several years ago when I was looking for 1970's-80s astrology books mostly for the illustrations and laid back writing style they often featured. I even had a sterling silver, crab pendant necklace in honor of my own zodiac sign, Cancer. Having worn the necklace for about a year, I eventually lost it and have been too lazy to buy another one since.
When reading Off the Top, I sometimes felt reminded of that scene from Leaving Las Vegas when Nicholas Cage is looking at the sign for "The Whole Year Inn" but instead sees it as saying "The Whole You're In." I mention this because the book is mostly Omarr's casual thoughts and ruminations about astrological signs, taken "off the top" of his head (or the opening paragraphs of his syndicated newspaper forecasts.) Off the Top might just as well be a euphemism for Out the Ass, depending on your point of view.
Amusingly, even in a light hearted book like this it only takes Omarr one paragraph into the book before he brings up the nazis and the holocaust, within the context of the role of astrologers played in WWII. However, this quickly leads into one of the more interesting parts of the book, which is a lengthy introduction featuring a fast-paced hodgepodge of favorable quotes and anecdotes about astrology relating to various public figures and personalities. Often the endorsements seem a little out of context but are interesting tidbits nonetheless. Among the first are a couple of quotations from Carl Jung:
"We are born at a given moment, in a given place, and like vintage years of wine, we have the qualities of the year and of the season in which we are born."
and
"Astrology represents the sum of all the psychological knowledge of antiquity"
The intro also has some rather ridiculous paragraphs from Omarr himself, noteworthy only for their chutzpah:
Becoming proficient in astrology demands knowledge of astronomy, history, mathematics,literature and psychology. Not all astrologers live up to the highest standards. Sadly, neither do all attorneys, physicians and educators. The key in this Space Age is to set aside preconceived notions, academic prejudice and aim toward progress. If astrology, among other subjects leads the way, so be it.
It also includes zillions of "factoids" which seem kind of far-fetched but which I don't have the time or energy to research to verify their accuracy. Example:
Outbreaks of murder appear to be triggered by the moon tugging on "biological tides" within the human body, according to Dr. Arnold L. Lieber of the University of Miami medical school
You get the idea. The introductory portion actually goes on for over 30 pages, nearly 1/3 of the entire book.
Moving on to the actual signs, Omarr dedicates several pages to each one. They offer comprehensive and detailed overviews, written in a very entertaining, no-nonsense and matter of fact tone. Some statements are unintentionally, hilariously accurate, such as:
The United States is a Cancer nation and has been known to feed the world.
Being a Cancer myself, I got a kick out of how much time Omarr devotes to talking about how Cancer is a great cook and loves being in the kitchen. My own idea of "cooking" is to throw a brick of tofu in the microwave, add some cheese and grape seed oil vegenaise to it and presto! My home cooked meals for most of my 20's to mid 30's consisted almost exclusively of microwave popcorn and cheap wine. The late Sydney Omarr must have gotten the last laugh though when I realized he had me pegged after all:
The classical Cancer native has a tendency to repeat facts and deliver monologues. Members of this zodiacal sign savor childhood memories, even bitter ones.
I recommend this book, even though I've been somewhat critical of it and don't take much of it seriously. It is written in a very entertaining style, and believe it or not I learned a few things I did not know (too many to mention actually.) It also does contain a few of the kind of 70s paperback illustrations and fonts which were the reason I purchased it, so I can't really complain.